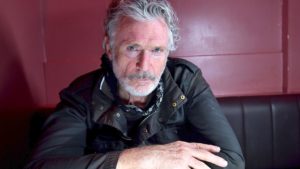 Patrick Connolly Bergin (born 4 February 1951) is an Irish actor perhaps best known for his leading role opposite Julia Roberts in Sleeping with the Enemy (1991) and for playing the villainous Aidan Maguire in the BBC soap EastEnders (2017–2018).
Bergin was born in Dublin, and had a working class upbringing in its Drimnagh district. Bergin learned social responsibility from his father, Paddy Bergin, a Labour Party politician, who had once studied to be a priest with the Holy Ghost Fathers in Blackrock, Ireland. Patrick is one of four sons and one daughter (Pearse, Emmet, Patrick, Alan and Siobhan Bergin). Bergin left Dublin for London in 1973,[5] and by the time he was seventeen, was in London running a theatre group. Bergin worked on building sites and at a library. He studied at night and completed a degree in education from North London Polytechnic. Bergin worked as an English teacher for several years before forming his own theatrical company because no one else would have him.
I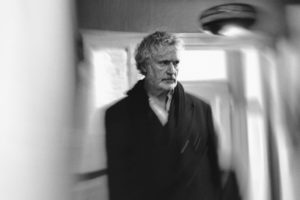 n 1980, Bergin decided to pursue acting full-time and he found work in repertory theatre. For much of the Nineties it seemed like no one in Hollywood would have him. So he made his own way; he worked in diverse films such as a trilogy of Yeats plays; Morphine and Dolly Mixtures, for which he won a Welsh Best Actor Award and Durango, based on John B Keane's novel; hosting TnaG's Silín Draíochta; and narrating Patrick Cassidy's Famine Concert. After Sleeping with the Enemy (1991), his reputation grew and he was offered the role of Robin Hood with Uma Thurman. He describes 1996 as the lowest point in his career, a time when he rarely received any phone calls for movie roles.
He may be best-known internationally for playing the menacing husband of Julia Roberts' character in the thriller Sleeping with the Enemy and is also known for his role as Irish terrorist Kevin O'Donnell in the film adaption of Patriot Games. Bergin also appeared as Robin Hood in a 1991 TV film. In 2013 he played notorious Glasgow gangster Arthur 'The Godfather' Thompson in The Wee Man. Bergin joined the BBC soap EastEnders towards the end of 2017, departing in March 2018.
Currently, he leads Patrick Bergin and the Spirit Merchants. Bergin had a top 10 hit in Ireland with the song "The Knacker", which tells the story of a person who recycles horse carcasses and turns them into glue. As a singer Patrick collaborated with Vlad DeBriansky and appeared on the record of Jacks Last Dollar. He also appeared in the video of DJ Steve Mac's song "Paddy's Revenge".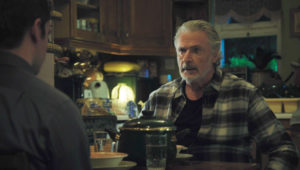 In 1993, Bergin bought an old church in Tipperary and converted it into a poetry centre. Bergin explained, "I've recently come to feel I can encourage children and teenagers with their writing. I'm continually giving groups money to make videos, but I insist that they have a good script. I do it because it makes the difference between them doing a video or not. It doesn't cost a lot, and it gives kids an incredible boost of confidence." In 1998, in response to the murder of a 14-year-old Tallaght boy, Ben Smyth, Bergin participated in setting up a special fund to sponsor young children from Tallaght.